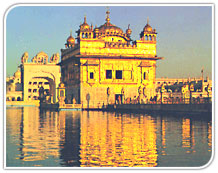 Punjab, the chief wheat producing area of the country, is the overland entry point into India. The state is also known for its production of sports and hosiery goods. The holiest shrine for the Sikhs is the Golden Temple in Amritsar, so called because the dome is covered with gold leaf.
Home of the fiercly proud and independent sikhs, the state of Punjab is steeped in histroy and culture of India.

For centuries, the sikh warriors have provided the fighting force for armies of the great kings of India, British Raj and now the people of United India.Through sheer hard work, the men and women of Punjab have turned this into one the greenest states in India. Universally famous for their deligence, they have done much to contribute to the welfare of India.