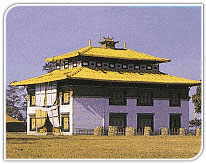 Wrapped in mists and clouds. A garden state with an incredible variety of orchids, rhododendrons, gladioli and a host of other flowers. Rustling, tumbling streams and torrents. Mountain monasteries and quaint shopping plazas. This is Sikkim.

The land of mighty Kanchenjunga. A holiday land with few equals anywhere. This jewel -like mountain state of ethereal beauty with an area of 7299 Sq. kilometres, nestles in the heart of the Himalayas.

People :

Sikkim has population of about three laksh, made up of Lepchas, Nepalese and Bhutias. The Lepchas are the oldest inhabitants of Sikkim. There is an old Lepcha legend that long ago, the laughter of the Lepchas wafted into the sky and it scattered and froze into shimmering stars. In the 15th and 16th centuries, the Tibetans arrived bringing with them the Red Hat Lamist tradition - Nying -ma-pa, which became the dominant culture and official state religion.